The CNF store will be open for selling lab supplies at the following times:
Monday - Thursday
9:00 - 9:30 AM, 1:00 - 1:30 PM

Friday
8:00 - 8:30 AM, 12:30 - 1:00 PM
Purchasing of supplies at other times will be based on the availability of staff. Please try to make your supply purchases at the above listed times. Contact Kelly Baker with any questions concerning these hours.
Record all store purchases in CORAL:
Users are expected to record, in CORAL, all purchases from the CNF Cleanroom Store. A CNF Thin terminal is conveniently located next to the CNF Store in the Cleanroom.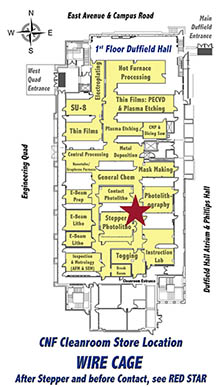 Pricing for items sold in the CNF Cleanroom Store is posted next to the Store.