The 2021 CNF REU Program!
During the summer of 2021, the Cornell NanoScale Science & Technology Facility is hosting a pandemic-restricted Research Experiences for Undergraduates (CNF REU) Program. We have hired four Cornell University undergraduates and "adopted" two other summer students!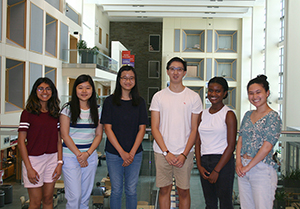 NEW EVENTS!
2021 CNF REU + CNF-Hosted Presentations
Wednesday, July 28th
203 Phillips Hall

10:55-11:00; Welcome with Dr. Lynn Rathbun
11:00-11:12; Francesca Bard (Ober/Kafer), Direct Patterning of Polymer Brushes by Electron-Beam Lithography
11:12-11:24; Kareena Dash (Ober/Kafer), A New Generation of Small Molecules for EUV Photolithography
11:24-11:36; Niaa Jenkins-Johnston (Fischbach / Tan), Investigating Metabolic Regulation of Cancer Stem-like Cells in the Perivascular Niche
11:36-11:48; Elisabeth Wang (Lammerding/Agrawal), Generating Microfluidic Devices to Study Confined Migration of Cancer Cells
11:48-12:00; Jackie Zheng (McEuen / Norris), Growing and Patterning ALD Metal Actuators for Microscopic Robots
12:00-12:12; Micah Chen (Gao / Nadafianshahamabadi), Understanding the Impact of Transportation on Air Quality, Climate, and Public Health
REMINDER! CNF REU + Bard Cleanroom Restrictions
Undergraduate CNF User restrictions start with Monday-Friday 8:00am-6:00pm cleanroom and second floor access with mentor only. After 50 hours of lab time, reasonable tool usage, and demonstration of safe lab practices, undergrads will be granted "extended access" -- Monday-Friday 8:00am-11:00pm. After 100 hours of lab usage and reasonable tool usage, undergraduate users will be granted full access privileges. Talk to Phil Infante, CNF Lab Safety Manager, when you feel you are close to the 50 hour / 100 hour lab time marks. He will determine if your next access level is appropriate. His office is in 250 Duffield Hall.
Complete Final Report Instructions, Due August 13th
2021 CNF REU INTERNS + TWO "ADOPTEES"
Ms. Francesca Bard, Adopted Student
Materials Science and Engineering, Cornell University
CNF PI: Christopher Ober
CNF Mentor: Florian Hermann Ulrich Kafer
CNF Project Title: 1757-09, Direct Patterning of Polymer Brushes by Electron-Beam Lithography
Mr. Micah Chen, 2021 CTECH REU Intern (Adopted!)
Civil Engineering, Cornell University
CTECH REU PI: H. Oliver Gao
CTECH REU Mentor: Razieh Nadafianshahamabadi
CTECH REU Project Title: Understanding the impact of transportation on air quality, climate, and public health
(Center for Transportation, Environment & Community Health Research Experiences for Undergraduates (CTECH REU) Program at Cornell University)
Ms. Kareena Dash, 2021 CNF REU Intern
Biological Sciences, Chemistry, Cornell University
CNF PI: Christopher Ober
CNF Mentor: Florian Hermann Ulrich Kafer
CNF REU Project Title: A New Generation of Small Molecules for EUV Photolithography
Ms. Niaa Jenkins-Johnston, 2021 CNF REU Intern
Biomedical Engineering, Cornell University
CNF REU PI: Claudia Fischbach-Teschl
CNF REU Mentor: Matthew Lee Tan
CNF REU Project Title: Investigating Metabolic Regulation of Cancer Stem-like Cells in the Perivascular Niche
Ms. Elisabeth Wang, 2021 CNF REU Intern
Biological Sciences, Music, Cornell University
CNF REU PI: Jan Lammerding
CNF REU Mentor: Richa Agrawal
CNF REU Project Title: Generating Microfluidic Devices to Study Confined Migration of Cancer Cells
Ms. Zhangqi (Jackie) Zheng, 2021 CNF REU Intern
Unaffiliated (intended major: Engineering Physics), Cornell University
CNF REU PI: Paul McEuen
CNF REU Mentor: Samantha Norris
CNF REU Project Title: Growing and Patterning ALD Metal Actuators for Microscopic Robots