Training
For training, please contact the Tool Manager(s).
Body
Portable Refracto 30PX
Place a few drops of sample on the cell, push the button, and read the final result.
Stored in the cabinets in 201 Duffield.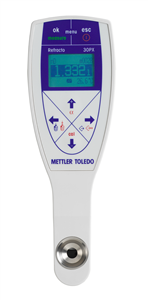 Capabilities
Brix Range                0 % – 85 %
Prism                           Glass
Range (nD)                 1.32 – 1.5
Temperature Range    10 °C – 40 °C
Applications
For determining refactive index of fluids for analysis in the Malvern Zetasizer.